Wymondham College Prep School
The Headteacher Designate
We are delighted to announce that Alex Wilson currently Principal Deputy Head of the Lower School at Norwich School has been appointed as the Headteacher Designate of Wymondham College Prep School.
We are delighted to have secured Alex's appointment from a very strong and competitive field. Alex brings a clear understanding of the very high standards and expectations that we have of our pupils and has the skills to lead a world class prep school.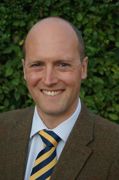 Mr Wilson said "It is a tremendous honour and privilege to have been chosen to found and lead the Wymondham College Prep School; a school that will be built on the already excellent foundations of the Sapientia Education Trust and Wymondham College.
The Prep school will have a strong sense of identity, camaraderie, empathy and aspiration. The children will benefit from a high-quality education that embraces a rich extra-curricular provision.
The Prep will ensure that the personal and academic development of the child is at the core of our provision.
It is a hugely exciting time and I look forward to sharing this venture with the children, their parents and the community."
Wymondham College Prep School