Wymondham College Prep School
The Headteacher Designate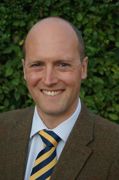 An extremely warm welcome to Wymondham College Prep School, where the school's grounds, buildings and its rural setting give the pupils the time and space for a full education. Even more important though, is the ethos that will be created by the staff and pupils in our community. Great effort is being taken to provide an environment that is both empathetic and aspirational; where every child can flourish and be successful in their school life. Through our help, children will grow into well rounded and knowledgeable adults.
Our tailored academic programme will ensure high standards are achieved right across the school and we encourage each child to strive to be the very best. Our inspirational staff will ensure that your child receives an world class education that will support and challenge them as individuals but will also put a smile on their face and give them endless things to talk about when they get home.
At the Prep we are committed to the development of the 'whole child', passionately creating an education that goes beyond the curriculum and giving children the opportunities to develop important personal, social and emotional skills; thus enabling your child to become a successful and positive member of modern society who is equipped for the upheavals, challenges and delights of our diverse and changing world.
As well as high academic standards, we place a great deal of importance on our pastoral care of all our pupils; delighting in their achievements, consoling them when it doesn't quite work out, embedding in them 'bouncebackability' and determination. We are very proud of the excellent care that will be offered here; our staff will ensure that you and your child feel supported and nurtured from first steps through our Reception classroom doors all the way to their last leaving Wymondham College at the end of Year 13.
I very much look forward to meeting you and welcoming you to the Prep.
With very best wishes,
Mr Alex Wilson